Jyoti Dhar writes on the first-ever public performance festival to hit the streets here that had people quite confused
View(s):
It was late Monday evening, and all day, crowds had been gathering and dispersing around various, seemingly bizarre acts taking place on the streets of Borella. "These people have been getting in and out of coffins, lying down in the middle of traffic and walking around with mud on themselves all day!" exclaimed one elderly lady, who worked as a cleaner in the nearby vicinity. "What are they doing?" she asked her fellow audience members in Sinhala, with an apparent mixture of perplexity and intrigue.
Along with thousands of daily commuters, street vendors, homeless people and local workers, she had in fact been witness to Colombo's first ever public performance art festival. Being staged across several sites – from bus shelters, to subterranean shops, and even a central traffic island – Theertha Performance Platform 2015 saw 21 artists from four different countries perform in and around one of the city's most congested crossroads; Borella Junction.
While Theertha, as a Colombo-based not-for-profit art collective, has been around for 14 years and has been highly active in furthering the practice of performance art in Sri Lanka, their workshops and residencies have largely taken place in enclosed environments. This was the first time that the organisation took a number of their well-ensconced practitioners, and invited peers from around the region, to present work in such an openly urban space. It is important to acknowledge the possibilities and the vulnerabilities that such an endeavour embraces; on the one hand, performance art is meant to be one of the most democratic forms of contemporary art (it is often participatory, community-orientated and flourishes outside of the 'elitist' gallery system) and on the other hand it can be a baffling, alienating medium for much of the general public (as it does not fit into the traditional categories of the performing or the visual arts, yet often appears to draw upon both of them).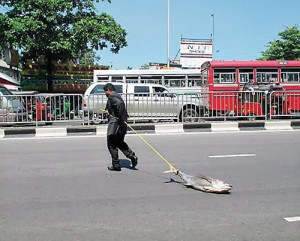 The reactions from an array of onlookers on Monday varied from questioning what was happening, to happily interacting with artists (when invited) to more hostile responses – such as accusations that this was an unwanted, foreign practice and that one performance was even indicative of black magic. To address the former point, while it is true that performance art certainly has a long-standing history in the West, from Futurism to the Fluxus movement and beyond, it could also be said that much of the discipline in the Subcontinent equally has its roots in activist street plays, mushairas (poetry recitals), local dance forms and regional cinema. As such, it is certainly not a medium that has been simply parachuted in from abroad. Rather, performance artists in Sri Lanka seem to be in the synchronous position of being conscious of the history of their medium, while naturally developing their own distinct overtones and trajectory.
For Bandu Manamperi, the body has always been a potential locus of contention and renewal. Over the past 14 years, the sculptor, painter and installation artist has become known for his provocative, intuitive performances which have seen him covered in bandages, ash and faux 'perforations.' For many performance artists practising and experimenting in the midst of the civil war – being witness to regular brutality, abduction and killing – the body was a site that was already implicated in many ways. Drawing from these realities, and yet not intending to be directly representative of them, sees performance artists such as Manamperi create situations and evoke gestures that can be read in myriad ways. For Theertha's Performance Platform 2015, Manamperi chose to dress in a black-and-white pinstripe suit, tie a rope to the tail of a large tuna carcass and drag it along the street until it was left bruised and battered. The artist then proceeded to tear the fish's body open with his bare hands, cradling the eviscerated flesh afterward with a mournful expression.
This seemed to be a moment of lament and acknowledgment; a memorializing of the casualties of the past and a reminder that the transition from war-time to post-war is more of a continuum than an abrupt dichotomy. Later, another performance artist – professional Bharata Natyam dancer Sellathurai Srikannan – also used the rituals of death as a point of departure from which to explore the interplay between the personal and political. Using similarly emotive objects and actions, Srikannan began his performance by getting into a wooden coffin, looking around from time to time and finally emerging from it – only to seemingly enact his own funeral rites and carry it down the street, back to its site of origin. The audience was being made to re-think their conventional approach to life, loss and the lifeless, by facing them in a more immediate and unexpected context. At times disturbing, it is this exact rupture in our normality, in our ingrained ways of receiving of and transmitting to the world, which such actions hope to induce.
Although many of the day's performances addressed social structures, states of repression and gender issues, it has to be stressed that the majority of them were not overtly activist or political in nature. Some of the less dramatic, more nuanced performances retained the most resonance such as Pradeep Gunurathna's successive attempts to trace his own outline with coloured chalk. Each time the artist would strive toward his shadow, it would inevitably shift and evade him, and in this action of repetition and failure was a subtle, poetic paradox. Often it is the ephemeral nature of such moments, which have been carefully structured by the artists beforehand, but not rehearsed or choreographed, that can make them so enduring. Another delicate, yet profound performance was undertaken by two of the international artists; Jeetin Rangher and Farwa Hassan Rizvi. The pair stood on top of a concrete column in the middle of a derelict car park, with their bodies leaning backward, their feet on the very edge of the narrow beam, and balancing by holding each other's outstretched, crossed-over arms.
As they remained in this position, they exchanged life histories with each other in a spontaneous, slightly nervous, almost flirtatious way. The tension in their bodies was perfectly offset by the fluidity and ease of their facial expressions and dialogue. The natural interaction between them could have been evocative of any new relationship, but was given an extra dimension by the fact that one of them was from India and the other from Pakistan. While this is a narrative that has been expressed in many different ways and forms over the centuries, here we were being asked to see anew. As such, this performance was innovative in its use of new languages to address age-old contradictions in the region.
Though many of the performances at the festival, such as this, challenged the distinction between real life and art, not many of them interrogated other critical categories – such as the line between the individual and collective, the passive and the active or indeed the author and spectator.
It seemed that while many of the practitioners were well versed with the canons of the medium, not many were subverting the modes or frameworks of it yet. It is significant to note that we did not see much participation from the audience, use of the public or professionals as material, or references to discourse and pedagogy as forms of performance, as we do in similar practices around the world. Also, interestingly most of the instances were performed using the body and did not traverse into the exploration of other performative media. It would certainly seem that performance art in Sri Lanka stands out as some of the most critically reflective, engaging and conceptual contemporary art in the country. With more discussion around the medium within the art world, and more exposure to the general public through platforms like this, it is definitely a space that one needs to watch as it continues to progress and respond in its own unique way to the environment around it.
http://www.sundaytimes.lk/150329/plus/coffins-and-muddied-people-whats-happening-141459.html